Everybody wants to live in luxury but that doesn't mean we all can. Still, when you go on vacation the odds are good that you are going to treat yourself better than normal. We decided to look around the globe to find the most expensive hotel suites that there are. You likely won't find discount hotel rooms at these locations but if you do, you're going to be one lucky individual. These hotel suites will make you never want to go back home. Listed below are the 12 most expensive hotel suites in the world!
The Apartment – Hotel Connaught.
The Hotel Connaught is located in London, England and it is considered one of the most expensive hotels on the entire planet. This obviously leads guests to one of the most expensive suites on the entire continent: The Apartment. The Apartment is a luxurious suite that gives guests a balcony that overlooks all of London, a private butler, and a menu developed by a Michelin star earning chef, Helene Darroze. Needless to say you will be well fed, well rested, and completely in love with this room — for just $24,000 per night.
Bridge Suite – Hotel Atlantis.
If you are in the Bahamas we highly doubt that you are going to end up in a lame hotel room. Still, if you need a nudge in the right direction then you had better head to The Atlantis where you can stay in the famous Bridge Suite. This suite has been used by people like Michael Jackson as well as Oprah Winfrey and that should tell you everything you need to know when it comes to how classy the place is. A night at this hotel will be running you $25,000.
The Presidential Suite – Hotel Cala di Volpe.
This illustrious hotel is located in Port Cervo, Italy and guests who stay the night will be treated to some of the best views that you can find. Porto Cervo is located right along the coast and the Hotel Cala di Volpe really utilizes that luxurious beach to its full effect. If you are feeling up to making an online hotel booking with the big boys then check out their Presidential Suite for only $25,500 per night. We're not positive that we could afford to even park at a place like this.
Shangri La Suite – Shangri La Bosphorus.
Located in Istanbul, Turkey the Shangri La Bosphorus is one of the most popular hotels in the region with the elite upper class – and for good reason. This gorgeous hotel has just the right room for a romantic billionaire getaway: The Shangri La Suite. This suite has an all marble bathroom that showcases a sit in tub with a giant television on the opposite wall. Outside of the suite you'll see a balcony that wraps around the entire room, giving a view of the Bosphorus Straight. The price: a smooth $26,400 per night.
The Presidential Suite – Mandarin Oriental.
This gorgeous hotel is located in Shanghai and it gives guests a chance to live with a billion dollar view, at least for a couple of nights. The Presidential Suite is the most prized room in the Mandarin Oriental as it is located on the 25th floor of the building and replete with a host of incredible features. First off this suite is actually a two bedroom apartment that has a skyline view and a private wine cellar. You could live in this modern masterpiece for just $26,500 per night.
Royal Two Bedroom Suite – The Burj Al Arab Jumeirah.
Dubai is the kind of place where the ATM machines can vend out bricks of actual gold. Of course this means that the hotels are going to be just as magical and expensive if you go to the right places. The Burj Al Arab Jumeirah has the proud distinction of offering one of the priciest suites in all of Dubai: The Royal Two Bedroom. This suite has a private elevator, a movie theater, butlers, chauffeurs, and some of the most comfortable beds that have ever been invented. Sorry, we were drooling just a little bit.
Royal Suite – Hotel Plaza Athenee.
The Hotel Plaza Athenee is located in Paris, France and it offers guests the ability to stay in the largest hotel in the city. The Hotel Plaza Athenee puts luxury on its rightful pedestal with its Royal Suite and you'll never want to go back to making cheap hotel reservation online trips. The Royal Suite runs you about $27,000 per night and you get your money's worth (kind of). This suite has four beds, three living rooms, a private kitchen, a steam room, and even a Jacuzzi — all wrapped up in old school elegance.
Royal Penthouse Suite – President Wilson Hotel.
Sometimes luxury comes with the justification: "Because I can". That is the case with the Royal penthouse Suite located in the President Wilson Hotel on Lake Geneva. This glorious hotel will run you about $33,000 per night and you'll be hard pressed to use all of the amenities available. Most people will be obsessed with the gorgeous pool outside or the view of the Lake Geneva just outside of your window. No matter what you decide to do at the Royal Penthouse Suite, know that you are in good company.
Ty Warner Penthouse – Four Season of New York.
New York is the city where dreams come true and yours just might have already done so if you're looking at the Four Seasons Hotel here in New York City. The Ty Warner Penthouse is the nicest room in the elite Four Seasons as it gives you the greatest view of skyline New York City that you could ask for. With glass balconies, vaulted ceilings, and modern decor there is just about no better way to spend a few days out of the house. Of course, your trip to the Ty Warner Penthouse will be costly! To stay at this hotel suite you will be charged upwards of $34,00 per night.
Penthouse Suite – Grand Hyatt Cannes.
Are you a film buff around for the glorious Cannes Film Festival? Maybe you are just globe trotting with your family. either way you need to head to the Grand Hyatte Cannes Hotel in Cannes, France. This hotel has a gorgeous 17,796 sq foot penthouse right on the beach. You'll get a gorgeous private beach patio that overlooks the bay and the Boulevard for just $41,000 per night. This is like a Tom Hanks level suite. Of course, this hotel is absolutely gorgeous with or without an attachment to the incredibly popular film festival scene. No matter what your role is in life you will be enjoying one of the prettiest cities in all of France in one of the most expensive suites on the entire planet. Go ahead and smile real big, you probably earned it if you are staying here.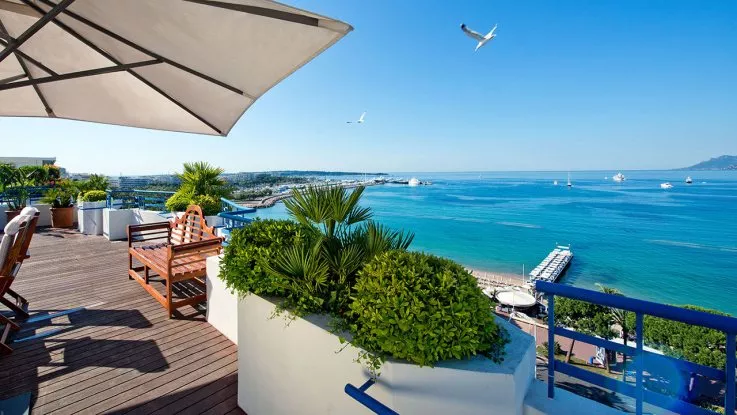 Delana Hilltop Estate – Laucala Island.
Make your way to Fiji and get away from the world for a paltry price tag of just $55,000 per night at the Laucala Island Hotel. If you find your way on the reservation waiting list, and pass all the appropriate applications, you'll be given a true Island paradise for as long as your rental lasts. The owner of the Delana Hilltop Estate suite is Dietrich Mateschitz, the creator of Red Bull. He occasionally rents out the room, allowing people to momentarily step into his getaway shoes and his getaway views. While this isn't everyone's idea of a getaway, the rustic isolation trapped within outright wealth is a perfect combo for us.
The Royal Penthouse Suite – Hotel President Wilson.
If you are ready to really flex your wealth then you'll need to head to Geneva, Switzerland in order to stay at the Hotel President Wilson. This hotel is the most expensive place to stay on the entire planet and as such it will rightfully have the most expensive suite on this list: The Royal Penthouse Suite. This suite will run you around $70,000 in cold hard cash every single night. Bill Gates has called it his own private getaway, even. You'll get a hotel that offers a maximum security team, a gorgeous view of Lake Geneva, a private gym, and even a gorgeous grand piano.